Hi guys,
I decided to update my code base a little. The following is a quick screen shot, nothing fancy, but (if sound was included) you can see that I now (mostly) support the AC97 sound card.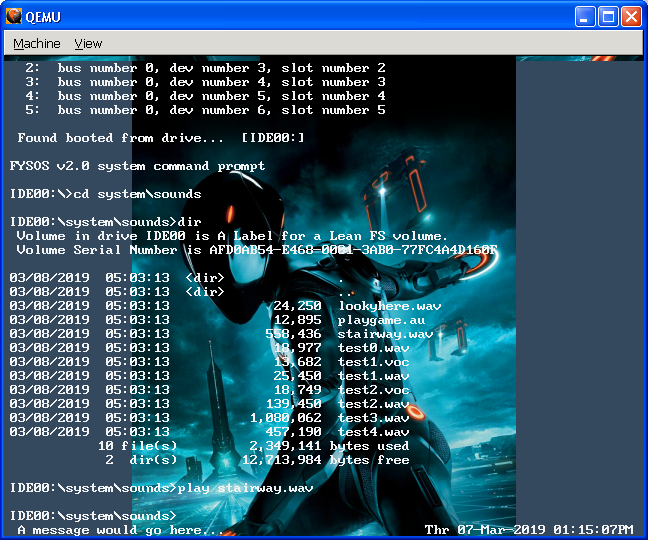 As a side note, I decided to let it boot at 640x480x32 and of course the background image is a little larger and "bleeds" to the top. I will have to fix this.
Anyway, after the interest in the
AC97 Post
, and after reading over the specs, I decided to see what I could come up with. Surprisingly, the AC97 is actually quite simple to program, once I clarified a few things with different documents.
Anyway, I have an updated (USB) bootable hard drive image (20 Meg) at the
home page
or a
direct link
(7 meg zipped).
It is a Lean FS image with the boot and kernel files, fonts, various image formats and now, various sound formats as shown in the listing in the image above.
The GUI runs fine (though a bit slow) in an emulator, i.e.: all images are visible, even the animated .GIFs and animated .PNGs. It runs a lot faster on real hardware since it takes advantage of the hardware's fast memory move features, but some of the images now don't display at all. uuhhmmm. I will have to investigate this.
Anyway, just thought I would put up an update. Thanks to everyone here for keeping this hobby interesting.
Ben
-
http://www.fysnet.net/osdesign_book_series.htm