I'm currently working on a tiling window manager. It is far from being finished but I'd like to show off what I have already

Attachment:
Attachment:
File comment: Ratio of 0.375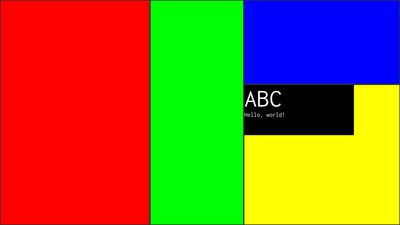 2022-06-22-220145_2560x1440_scrot.png [ 63.36 KiB | Viewed 1126 times ]
The WM uses a binary tree to determine how to size each window. Each parent node has a 16-bit ratio (from 0 to 1 inclusive) to determine how many pixels high or wide each child may be. The border is simply a fixed amount of pixels substracted from the final size. It also automatically determines whether to split horizontally or vertically such that the windows have an aspect ratio that is as close to 1 as possible. I do intend to make it possible to resize & move windows though, of course.
I'm using
fontdue
for rendering the characters. It is simple to use and seems to work very well. I had to implement support for SSE2 though since LLVM seems to use SSE instructions in intrinsics regardless of the soft-float feature but it turned out to be quite easy (though I mistakenly aligned the stack
after
a call instead of before, that was quite a headscratcher).